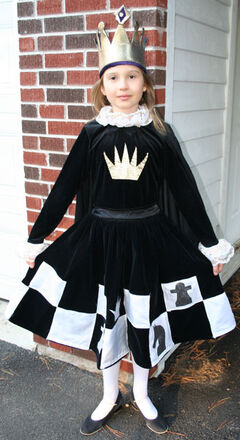 Black velvet top and skirt. White squares are attached to the skirt in two rows (first, I planned three but there was no space for more). Their size was calculated accordingly to fit an even number of squares along the hem. The top row is a little bit smaller because the skirt is more narrow there. A few contrasting chess figures are applied to some squares.
The collar and sleeves are decorated with a broad white lace with golden trim. A large golden crown is cut from some fine shiny fabric and attached to the front. We already had a golden crown for the head and a black cape.
Created by Himoroda
Edit
Created by Milena Shinkovskay
Edit
Ad blocker interference detected!
Wikia is a free-to-use site that makes money from advertising. We have a modified experience for viewers using ad blockers

Wikia is not accessible if you've made further modifications. Remove the custom ad blocker rule(s) and the page will load as expected.