Created by Milena Shinkovskaya
Edit
A very simple costume. A white shirt, black pants and shoes, sailor's collar (it can be easily maid from blue fabric with attached white strips), sailor's cap and toy binoculars.
Created by Mozgovaya Alica
Edit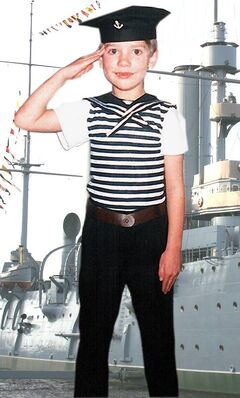 Sailor's cap is made of fabric and cardboard inside and ribbons of course! I liked to saw sailor's striped vest. It's sewn of jercey T-shirt, so it was unnecessary to overstitch the seams.
Nice classic trousers and leather belt. The costume will be smart with laid on collar decorated with white tape. It took me to produce the costume one single evening.
Ad blocker interference detected!
Wikia is a free-to-use site that makes money from advertising. We have a modified experience for viewers using ad blockers

Wikia is not accessible if you've made further modifications. Remove the custom ad blocker rule(s) and the page will load as expected.