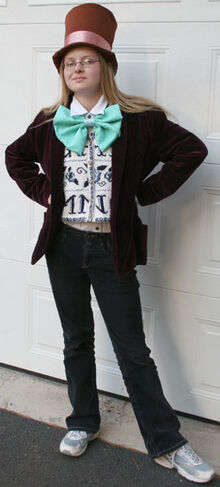 A costume of Willy Wonka created by Gene Wilder in the old movie Willy Wonka and the Chocolate Factory (1971).
A purple velvet jacket was purchased in a thrift store. The top hat is made from bristol board covered with a soft brown fabric. The tie is made from a green silk kerchief.
The only problem was many people thought it is a costume of the Mad Hatter, not Willy Wonka :)
Ad blocker interference detected!
Wikia is a free-to-use site that makes money from advertising. We have a modified experience for viewers using ad blockers

Wikia is not accessible if you've made further modifications. Remove the custom ad blocker rule(s) and the page will load as expected.